Apple's emphasis on privacy through its products has been well documented. But the iPhone-maker is going a step further to highlight the importance of health data privacy in its products and services. To that extent, a campaign is underway, which includes a white paper to show how Apple helps protect data stored in the Health app on iPhone and in HealthKit. You'll also see billboards in 24 regions around the world talking about health data privacy as a part of the campaign. And one more thing…
Apple has a new advertisement capturing the importance of health data privacy, but has a humorous touch. For the ad, Apple roped in Emmy Award-winning actress and comedian Jane Lynch for a voice-over and it's every bit hilarious and conveys the intended message. It's like one of those Reels asking you to watch till the end and that's where Apple makes its presence.
The new comedic ad shows what it's like when people whose health data is shared without their consent by a third party voiced by Jane Lynch. The ad is directed by award-winner Craig Gillespie, who directed "I, Tonya and Cruella" among other films.
Watch the ad below:
Privacy first
In this ever-evolving digital era, sharing personal data is on an unprecedented rise. But Apple stands watch over the data shared online, protects it and puts the user back in control. Health data is the most personal thing and Apple's Health app and HealthKit were designed keeping that privacy in mind. Everything from data minimization, on-device processing, transparency and control, and security, an Apple user can expect health data privacy at its finest.
For instance, when an iPhone is locked with a passcode, Touch ID or Face ID, all the data related to health and fitness in the Health App is encrypted. In case the data is backed up to the iCloud, it is end-to-end encrypted, both in transit and on Apple servers. In case the user has 2F authentication and a passcode, health and activity data is backed up in a way that even Apple cannot decrypt the data.
Note: Over 95% of active iCloud users have two-factor authentication enabled as of August 2022.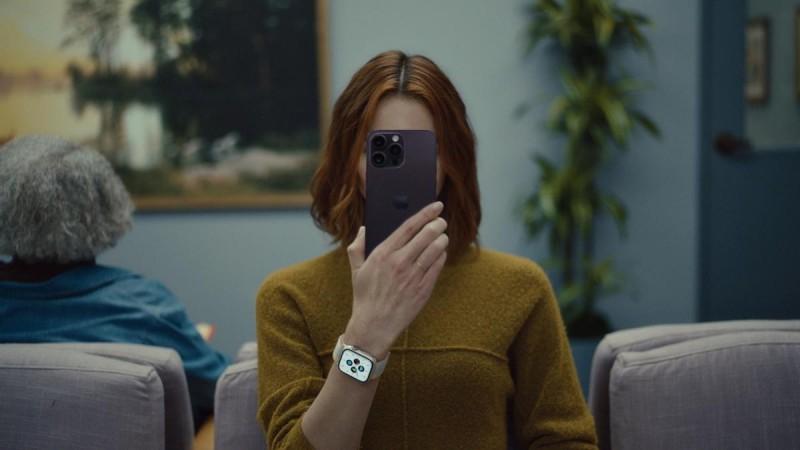 The user is in complete control of the data stored in the Health app and HealthKit. It is never shared with third-parties without explicit permission from the user, according to Apple. Interestingly, the Health app also provides granular control over the types of data, allowing users to review, manage, and withdraw permissions at any time.
Diving deeper into how the Health app and HealthKit protect user privacy, Apple released a white paper, which also educates users on the transparency and control they have over who can see their health data.
Apple collectively brings together over 150 different types of health data from Apple Watch, iPhone, and authorised third-party apps and devices. Elaborating on the four privacy principles mentioned earlier in the article, Apple talks about how iOS minimizes the amount of health data sent to Apple servers with on-device generation of health metrics. It then processes the said data on the device itself. This way, the data in the Health app is not readable by anyone, not even Apple.
Giving users deeper control over their data, Apple lets them see and control data sharing with friends, family and your doctors. Wrapping all of it under end-to-end encryption, Apple ensures there's no breach.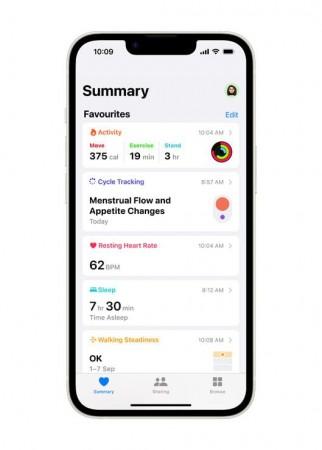 Unlike what's seen, Apple also lets users give explicit permission to each data type. For instance, you can give certain third-party apps access to steps but withhold heart rate data or blood glucose levels. This can be done with various health metrics including sleep and period tracking.
How to review data-sharing on your iPhone?
Apple users can review the data being shared with others and control it from there. To do so, follow the steps below:
Tap Sharing at the bottom of the screen

Tap the name of a person.

Scroll down, then tap View Shared Data.

Make any changes, then tap Done.
In order to review data being shared with other apps and devices, follow the steps below:
In the Health app, tap your picture or initials at the top right. If you don't see your picture or initials, tap Summary or Browse at the bottom of the screen, then scroll to the top of the screen.

Below Privacy, tap Apps or Devices. The screen lists the items that requested access to Health data.

To change the access for an item, tap it, then turn on or off permission to write data to — or read data from — Health.