KEY POINTS
An NYPD officer punched a 19-year-old woman who allegedly interfered with an arrest Tuesday
Police have launched an investigation, but the officer has not been disciplined as of Wednesday afternoon
The officer has had six complaints lodged against him in the past ten years
A New York Police Department (NYPD) officer was caught on camera punching a woman to the ground after authorities claimed she attempted to interfere with an arrest.
Officers of the force's 32nd Precinct were on the sidewalk on West 136th Street in Harlem Tuesday afternoon to arrest 22-year-old Elvin James, the New York Post reported.
Authorities sought James in connection to attempted murder, and he was found to have a firearm and a controlled substance during the arrest.
As James was being arrested, a woman identified as Tamani Crum, 19, entered the scene.
She talked to James before being pushed back by a police officer, footage of the encounter showed.
Crum then hit the officer, who responded by punching her in the face, causing Crum to hit the ground.
Officers later put Crum in handcuffs and escorted her away. It was unclear if she sustained any injuries.
In a statement, the NYPD claimed, "While police were effecting the arrest multiple individuals on scene interfered by physically assaulting numerous officers."
An officer sustained a minor injury to the head, according to the department.
Police have charged Crum with assaulting an officer, resisting arrest and obstructing governmental administration.
She was only arraigned on the latter charge, a misdemeanor and set free without bail following an appearance at Manhattan Criminal Court Wednesday night.
Meanwhile, James has been charged with attempted murder as a hate crime in the second degree, criminal possession of a weapon, reckless endangerment and criminal possession of a firearm.
He allegedly shot at a group of people on West 163rd Street at around 10 p.m. on Aug. 12. It was unclear why the charge was hate-based.
The officer who punched Crum, identified as Kendo Kinsey, has not been disciplined as of Wednesday afternoon, an NYPD spokesperson said.
He has had six complaints lodged against him over the past decade, according to the Civilian Complaint Review Board, an organization that investigates reports of police misconduct.
The NYPD has since launched an investigation following Tuesday's incident, NBC New York reported.
The Detectives Endowment Association is considering filing a civil suit on behalf of Kinsey against Crum, the organization said in a statement.
"When you assault a New York City Detective in order to interfere with an arrest of a man armed with a gun there are repercussions," the association said.
Jaime Santana Jr., Crum's attorney, has criticized Kinsey, claiming the officer went too far and that he should have been better trained to handle that kind of situation.
"You mean to tell me a grown man more than twice her size in weight could not handle a 19-year-old female in a different manner?" Santana was quoted as saying by ABC 7.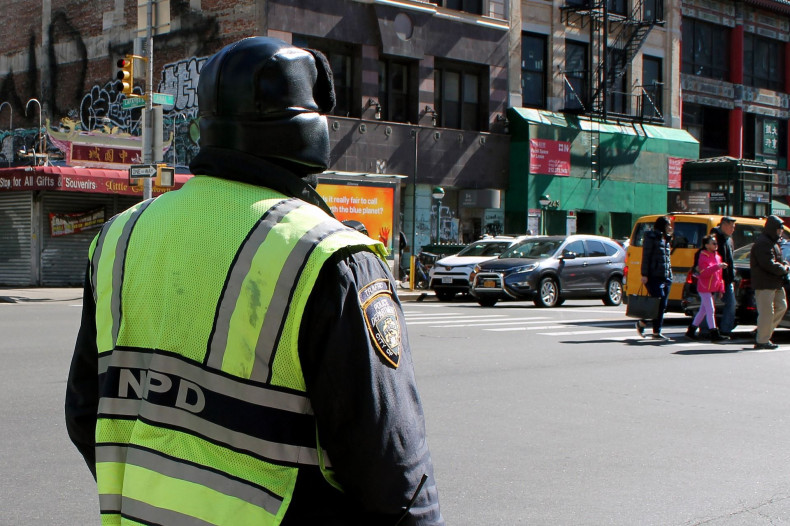 MEET IBT NEWS FROM BELOW CHANNELS
© Copyright IBTimes 2022. All rights reserved.